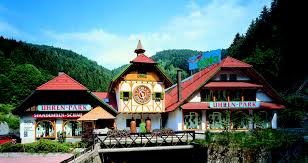 Date: Aug 22 2020, 6 a.m. - 10 p.m.
Baumholder Outdoor Recreation - Smith Barracks Bldg. 8167 Baumholder 55774 Google Map
Spend the day in Germany's famous Black Forest!
What better place to see than Triberg Germany. Start off with a hike to one of Germany's tallest waterfalls. From there we will head into Triberg where you can soak up all the village has to offer. Enjoy multiple Cuckoo clock shops to include the infamous House of 1,000 Clocks. The day wouldn't be complete with out some Black Forest Ham, Cherry Brandy, and of course Chocolate Cake (schwarzwälder kirschtorte).
Don't wait, sign up today with your local Baumholder ODR!
Cost
$69 Per Person
$49 Per Child 12 and under
Contact
Military DSN Tel:

(314)531-3401