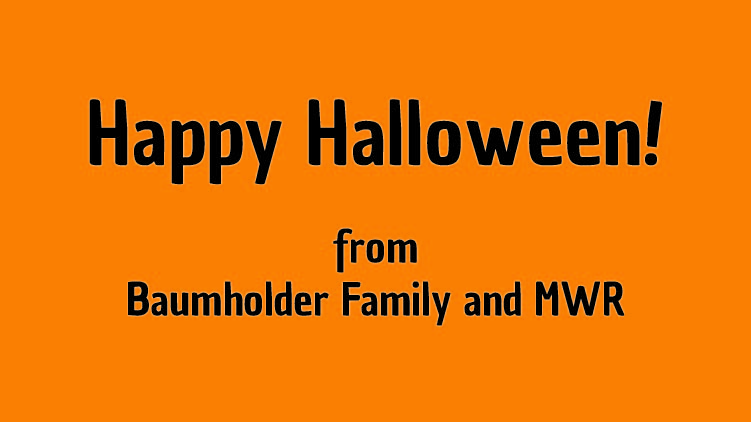 Happy Halloween! AFN Radio Recap: October 3
Looking for information on the programs discussed during the Tuesday 9 a.m. Baumholder Family and MWR radio hour on AFN Kaiserslautern? Here are the details:
A Haunted Evening at Burg Frankenstein
On Oct. 21 form 3:30 pm-12 a.m., Outdoor Recreation invites all who dare to join us for a haunted evening at Frankenstein's Castle. There are multiple characters that will touch you, grab you, scare you, and chase you. Between being thrown in a casket and chased by a mummy, enjoy the spooky stage shows. The scary factor of this event is not suitable for young children. $65 per person includes transportation and admission to the castle. For more information contact Baumholder Outdoor Recreation, Smith Bks., Bldg. 8167, 485-7182; 06783-6-7182.
Zombie 5k Fun Run
Run for your lives! Zombies have infested Smith Barracks and at 9 a.m. on Oct. 27, they're coming for you on the Baumholder Sports and Fitness 5k fun run course. Come in your Halloween costume or dress as a zombie so that they think you're one of them! Registration opens at 8 a.m. the day of the race. Race begins and ends at Hall of Champions Fitness Center. No cost to participate. To volunteer as a zombie, contact the Warrior Zone, Smith Bks., Bldg. 8106. 531-2914; 0611-143-531-2914.
Haunted Hayride at Outdoor Recreation
On Oct. 28, for one night only, Outdoor Recreation and Better Opportunities for Single Soldiers are partnering to bring Haunted Hayrides to the Baumholder Military Community. Take a seat on our tractor pulled hay wagon as we slither through the haunted woods of Smith Barracks. Meet a legion of vicious and psychopathic clowns, hear an original narrative of their story, and pass through unforgettable life-sized sets. Rides depart from Outdoor Recreation beginning at 6 p.m. $5 per rider. Be there, and be scared! Smith Bks., Bldg. 8167.
Tattered and Torn Halloween Costume Contest
Join Tavern on the Rock for a Halloween costume party on Oct. 28! Door open at 6 p.m., costume contest will be at 8 p.m., and karaoke begins at 9 p.m. There is a $50 gift card for the Best Overall Costume winner. Spooky drink specials will be available all night. Open to ID cardholders and their guests, ages 18 and older. For more information, contact 531-2890; 0611-143-531-2890. Smith Bks., Bldg. 8085.
Tricks and Treats Dog Costume Party and Contest
On Oct. 29 from 12-4 p.m., we're throwing a Halloween Party for your furry family members at the Baumholder Dog Park! There will be tricks, there will be treats, and there will be prizes for the best costume in two categories, large and small dogs. First place will receive a gift certificate for $100.00 and the runner-up will get the same, but for $50.00, to be used for purchase of dog training or doggy daycare. Costumes with be judges at 3:30 p.m., with winner announced at 3:45 p.m. For more information, contact Rolling Hills Golf Course, Wetzel Kaserne, Bldg. 8888, 485-7299; 06783-6-7299.
Children's Halloween Carnival
On October 31, from 4 p.m.-7 p.m. Baumholder Family and MWR presents a Children's Halloween Carnival in conjunction with Better Opportunities for Single Soldiers. Enjoy 13 booths with spooky activities for only $0.25 per ticket, or 10 tickets for $2. Feast on nachos, cotton candy, popcorn, and witches brew, or try your luck at winning a sweet treat in our cakewalk. Compete in our pre-carved pumpkin contest, with divisions for children 5-11 and 12-18. Be crowned the winner of the scariest, prettiest, or most creative costume. This community event is open to children of all ages and their parents. Hall of Champions Fitness Center, Smith Bks. Bldg. 8105.