Gridiron Challenge
Check out the end of season prizes!
Note: This event has already passed.
Nov 30 2022, 6 pm - 8 pm
Nov 30 2022, 6 pm - 8 pm
The Landstuhl Community and Rheinlander Clubs are hosting a free Gridiron Challenge every Wednesday from Sept. 7 to Jan. 18.
Participate in this 17-week challenge & show your football knowledge by picking the weekly game winners.
Participants must be valid ID Card Holders, ages 18 and older.

Forms must be turned in-person on Wednesday from 6 to 8 p.m. at the Landstuhl Community Club, Bldg. 3780 on Landstuhl Post or the Rheinlander Club, Bldg. 8085 on Smith Barracks in Baumholder.

Food and beverages will be available for purchase.

This event showcases weekly, door and end of season prizes.

No cost to play
Gridiron Challenge End of Season Prizes
The Gridiron Challenge is coming to an end at the Rheinlander Convention Center, so what prizes are possible for winners?
First-place winner will receive a $500 gift card.
Second place will receive a $200 gift card.
Third place will receive a $100 gift card.

*Sponsored by Service Credit Union.
Sponsorship does not imply federal endorsement*.
You got Questions? We have answers!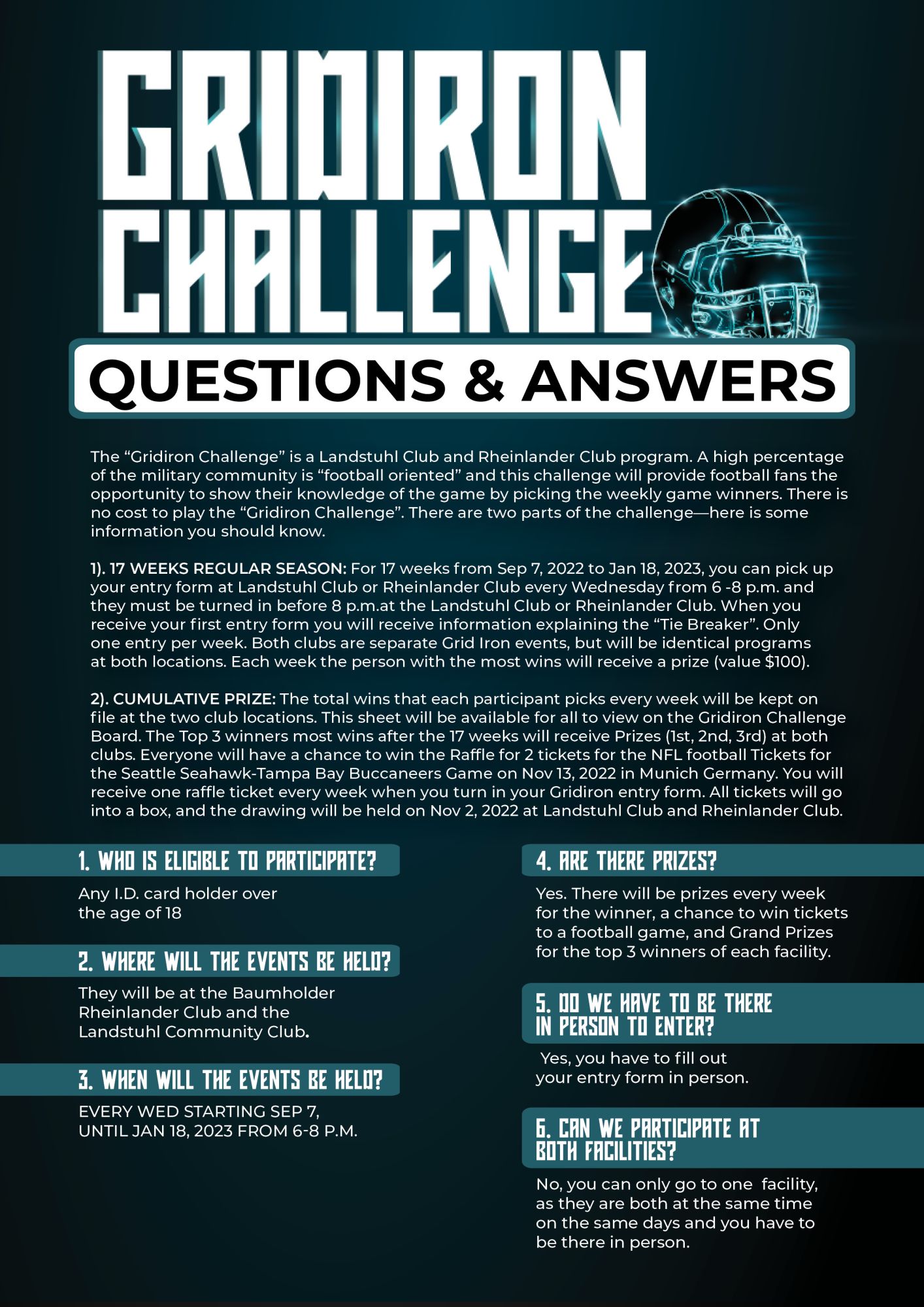 Registration Information
Forms can be filled out and turned in at the club.
Rheinlander Convention Center

Military DSN (314) 531-2888